Are you a new trader and you need the right knowledge to fast-track your trading success? Are you an intermediate trader in search of a clear trading strategy with concise entry and exit points? How would you feel about making an extra two to three thousand dollars every month?
This is a one of a kind trading course that cuts through the noise and gets right down to business.
The complete price action course will teach you:
Market structures
Trend trading
Range trading
Analysis approach
Strategies
Strategy implementation
Trading techniques
Why price action?
Price action is widely used by traders around the globe because it is highly accurate. You will get a full understanding how to pick the highs and lows of the market like a pro and trade in any market conditions. Trading  price action successfully will give you the ability to be able to generate an income with only a laptop and internet. Using the unique low risk approach, traders are able to generate double digit returns. Wouldn't you like to be able to achieve that?
What do other traders have to say?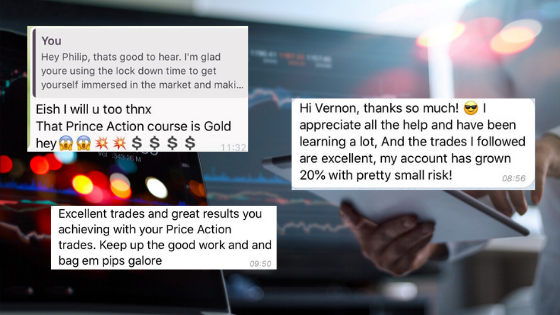 Get  The complete price action course for only R3000 right now for lifetime access
How does it work?
Receive notifications for the lessons to your email inbox
The lessons are online and can be done in your own time. You can access the lessons any time
Each lesson will be in either theory or video and theory format
The course is spread over two months to allow for ease of  use and good progression
Ongoing access to mentorship without any additional or annual fees
Please complete the short form below to receive more information on the course and how to get access
Disclaimer:
Trading carries a high level of risk. You may lose some or all of your capital. I am not a financial advisor and this website is for educational purposes only. You should seek professional advice from a qualified advisor before making any investment decisions. Never invest what you can't afford to lose. Profit Fx and its associates and employees cannot be held responsible for any losses made.